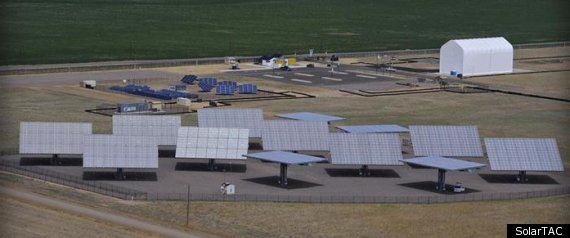 The Huffington Post Ryan Grenoble First Posted: 06/ 8/11 02:33 PM ET Updated: 06/ 8/11 02:33 PM ET

Colorado's renewable energy prospects are looking bright. And with the opening of the largest solar research facility in the United States yesterday, it isn't just the sun talking.

SolarTAC, which stands for "Solar Technology Acceleration Center," officially opened their 74-acre facility in Aurora on June 7, with a stated goal to "research, test, validate, and demonstrate solar technologies." The campus includes both photovoltaic and concentrated solar power technologies.

In an opening ceremony statement, Gov. Hickenlooper said the facility "will get ideas from the laboratory to consumer's hands faster. We're fortunate to have this national resource in our backyard."

Dustin Smith, SolarTAC's executive director, told the Denver Business Journal that founding members have contributed $6.1 million to have access to the facility. The three founding members include Xcel energy, Abengoa Solar, and SunEdison.

If comments are closed.